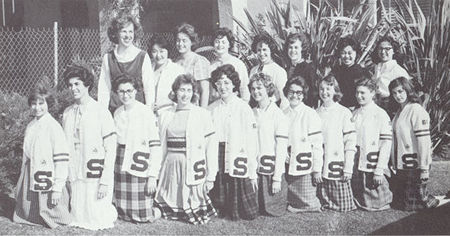 Our 60th Reunion

We are planning a 60th reunion at Sequoia High School on Saturday, August 21, 2021 (next year!)
Please spread the word. If you have a current email address for any of our classmates, please send it to me so that I can put them on my email list. I will not be snail mailing invitations. I will post the flier on Facebook on my page (Dee Eva) and on the Sequoia 1961 page. Other than that, itís word of mouth. If youíre interested in joining us, please mark your calendar.
If you want to contact someone in our class and donít have an address or phone number, let me know, I may have it.
I hope youíll all join us next year to celebrate 60 years!!!!
PLEASE SEND US YOUR INFORMATION
If you know the whereabouts of any of the classmates on our missing list or know of additional classmates who should be added to our list In Memoriam, please let us know. We are trying to keep this list as accurate and up-to-date as possible and appreciate any help you can provide.
SEQUOIA VETERANS MEMORIAL

If you wish to donateto the Sequoia Veterans Memorial or to purchase a brick, tree or bench, please contact:

Melissa Quinn Utecht at 650-367-8482.

We are accepting donations in any amount or you can purchase a brick for $100, have a tree planted near the monument for $1,000 or have an engraved bench placed near the monument for $3,000.

Surplus funds from the sale of bricks, trees and benches are used for maintenance of the monument and future engraving. We also fund Cherokee Grants to teachers and students for classroom supplies, books, and field trips.

Don't miss this opportunity to remember a teacher, friend, classmate or loved one. You can honor anyone whether or not they attended Sequoia or served in the military.

To purchase a brick, tree or bench, send a check payable to SHSAA to Melissa Quinn Utecht, 3015 McGarvey Avenue, Redwood City, CA 94061. If you have questions, contact Melissa Quinn Utecht at 650-367-8482.